Join The San Diego River Park Foundation Team
---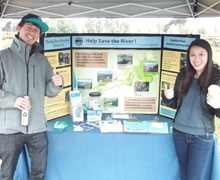 The San Diego River Park Foundation is dedicted to inspiring San Diego to care for and conserve the 52-mile San Diego River. We do this through engagement, education, meaningful actions, advocacy and philanthropy.
If you are wanting to make a difference by being part of our dedicated team, we encourage you to consider opportunities we have available.
EMPLOYMENT AND CONTRACT OPPORTUNITIES



Fund Development Manager: Job Description (PDF)
Office Administrative Manager: (part time) Job Description (PDF)

Field Coordinator - Land Management (coming soon)
Senior Lands Manager (coming soon)
If you are interested in any of these positions, plese send a resume with a cover letter to rob@sandiegoriver.org
Phone inquiries are invited as well at 619-297-7380 x108
VOLUNTEER OPPORTUNITIES
Please click
here
for a calendar of upcoming volunteer opportunities.
We also have ongoing volunteer opportunities.
(clear here for details)
To learn more, contact our office at (619) 297-7380 or email
volunteer@sandiegoriver.org
. We look forward to involving you in the improvement of our community and a healthy future for the San Diego River.
INTERNSHIPS
We have opportunities to intern with the River Park Foundation throughout the year, and we accept internship inquiries on an ongoing basis. San Diego River Park Foundation internships are fun, rewarding and great resume-builders.

Unpaid internships are available across many of our programs. Interns are asked to work approximately 10 hours per week. A 3-month commitment is requested. The opportunities are a mix of office and field work. School credit is available if offered by your learning institution.

Please email your resume and a well written cover letter to volunteer@sandiegoriver.org. You can also call us at (619) 297-7380 to discuss our opportunities. With your email, please indicate in the subject line the internship for which you are applying. Descriptions are listed below.

Urban Restoration Field Intern: Perfect opportunity for those with a background or interest in environmental field work, especially for those studying human interactions with the environment. Duties include data collection and processing, site visits and logistics, as well as volunteer leadership and field assessments. For a complete intern description, click here.

Park and Coastal Habitat Field Intern: Support volunteer leaders with the operations, functions and events at our public gardens, while also supporting the health of the river near the coast through volunteer leadership and restoration. For a complete intern description, click here.

Ecological Restoration and Monitoring Intern: Assist the field staff with research, riparian and upland ecological restoration and monitoring program development within our preserve system. For a complete intern description, click here.

RiverWatch Water Quality Program Intern: RiverWatch is our program to monitoring and document the health of San Diego River water quality. The RiverWatch intern will maintain water quality equipment and databases and attend monthly monitoring outings. For a complete intern description, click here.

Riparian Field Survey and Park Assessment Intern: Conduct field surveys and assessments with special emphasis on RiverBlitz, a 20 mile survey of the River's riparian habitat. Lead volunteers on weekly field assessments and assist with Park Watch data management and volunteer support. For a complete intern description, click here.
Graphic Design Intern: Design and layout all graphic communication pieces for all programs and special events. Proficiency in Adobe Creative Suite, including In-Design, Photoshop and Illustrator is required. For a complete intern description, click here.

Education and Outreach Intern: Dedicated to engaging students in the community to help rebuild a connection between our youth, and the San Diego River. Responsibilities include leading youth K–12 in education programs, working with teachers and participating at community outreach events. For a complete intern description, click here.

River Coalition Intern: Attend Coalition meetings, and take meeting notes. Help prepare for meetings, work on advancing projects on Coalition work plan. Must be able to attend Coalition meetings which are the third Friday of the month 3PM - 4:30PM at the Mission Valley Library. For a complete description, contact us!
Social Media Intern: Capture, create, and monitor social media content. Attend public events on behalf of the organization and assist with special events. For a complete intern description, click here.
Special Event Intern: There are opportunities throughout the year to support our special events. Internship duties vary depending on the event. For full descriptions of all of our special event internships, click here.

MEMBERS MATTER
Become a member of the San Diego River Park Foundation and invest in the future of the River.
Learn more »